[tabs slidertype="simple"] [tab]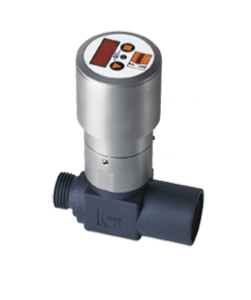 [/tab][tab]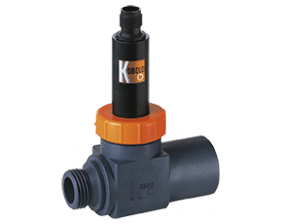 [/tabs]
Kobold DRS Turbine Wheel Flowmeter – Compact Electronic
The DRS Flowmeter is used for measuring and monitoring liquids. Being of compact electronic construction, the mini turbine is suitable for use with machines and where space is limited. It is ideal for use in the beverage industry, with devices used in automatic beverage retail systems, and washing machines in the photographic and printed-circuit board industries.
The Flowmeter operates on the turbine wheel principle. The liquid first flows through a laminar flow element to eliminate turbulence and to route the flow stream to the turbine wheel causing the turbine wheel to rotate. The rotating motion is sensed by magnets embedded in the turbine wheel, which is converted into frequency that is proportional to the flow velocity.
Frequency divider, analogue output or connect electronics with LED display and limit contacts are available as options. An integrated temperature sensor for simultaneous measuring of flowrate and temperature is also available as an additional option. The vane is sapphire-supported which ensures a higher degree of linearity and long life.
Please ask for more information.
[learn_more caption="Specifications" state="open"]
Measuring range: 2.0 – 40 l/min water
Connection:
G ½ female / male thread, G ¾, ¾" NPT male / male thread
Material: PPO, PEI, brass, stainless steel
pmax: 16 bar, 200 bar (brass, stainless steel)
tmax: 80°C (optional 150°C)
Accuracy: ±1.5 % of full scale
Bulb Material: stainless steel
Analogue output, contacts NPN / PNP, digital indicator
[/learn_more]