[tabs slidertype="simple"] [tab]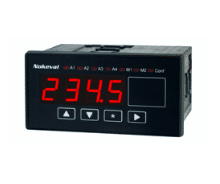 [/tab]
[tab][/tab]
201/202 Loop Powered Panel Meters
[/tabs] The Nokeval 201/202 Loop powered bright red LED-display needs no external power supply. Current signal 4-20 mA provides the necessary energy. Therefore, it is possible to install the meter in places with no auxiliary power available. You can now replace the auto-powered LCD-displays by bright red LED-displays.
Which two models are available?
201 (Basic Model) – Alarm relays not available
202 – 2 Alarm relays available
Display scaling and configuration with the front panel buttons.Each Unit has a digital filter for stabilizing the 4-digit display. With the 202 model you can configure two alarm options, high and low.Front panel protection IP65.
Password is setting available for entering configuration and the alarm stages.
[learn_more caption="Key Features" state="close"]
For process input 4-20 mA
Without external power supply
Loop resistance 240 ohm (201) 370 ohm (202)
4-digit processor based display
Scaling on front panel
2 configurable alarms (202)
Passwords for alarms and configuration
Front panel rating IP 65
[/learn_more]
Please call 01628 778688 for further information.
[learn_more caption="Input Details" state="open"]
Inputs: mA
Input Resistance: 201; 240 ohm (voltage drop = 5.0 V)
202; 370 ohm (voltage drop = 7,3 V)
Accuracy: 0.05% full scale
Input Channels: 1
[/learn_more]
[learn_more caption="Output Details (202)" state="close"]
Special Functions: High and Low alarm
Relay Information: Semiconductor relays, max. 260 VAC
Outputs: 4…20mA
Alarm Relays: 2
[/learn_more]
[learn_more caption="Connection Details (202)" state="close"]
Connection Model: 2.5mm², detachable
[/learn_more]
[learn_more caption="Display Details" state="close"]
Display Colour: Red
Number of Digits: 4
Display: 7 segment LED
Digit Size: 14.5mm
[/learn_more]
[learn_more caption="Power Supply" state="close"]
Supply Voltage: Max. voltage drop in current loop < 5 V
For model 202 < 7.5 V
[/learn_more]
[learn_more caption="General Information" state="close"]
Weight: 150g
Protection Class: IP65 (front panel with a rubber gasket provided)
Dimensions (WHD): 96 x 48x 70mm
Minimum Ambient Temperature: 0 °C (201) -10°C (202)
Maximum Ambient Temperature: 60°C
[/learn_more]