[tabs slidertype="simple"]
[tab]
[/tab]
[tab]
[/tab]
[tab]
[/tab]
[tab]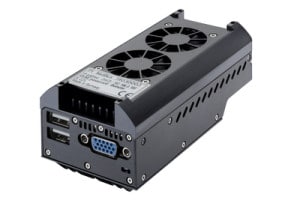 [/tab]
[/tabs]
Optris PI NetBox Miniaturised PC for use with PI series
Each Optris thermal imager has to be connected to a PC via a USB connection for both powering the camera and transferring data to the PC. If space is tight and you don't have room to connect to a PC, you can instead connect an Optris PI camera to an Optris PI NetBox, a minitiarised PC specifically for use with the Optris PI series of infrared cameras. It provides a standalone solution and can also act as a USB to Ethernet adapter, so you can have longer distances between the process proper (PI camera) and the process monitoring system (PC).
The NetBox works with a Windows 7 operating system that allows the user to install additional software.
The housing of the NetBox is made of anodized aluminum – the optional NetBox protection housing supports the usage in industrial environments (IP65/ NEMA-4 rating).
[learn_more caption="Features" state="open"]
Miniaturized PC for PI 160/ 4xx stand-alone operation or for cable extension
Supports 120 Hz (up to 70 Hz for PI4xx) frame rate
Integrated watchdog feature
Additional operation of customer specific software
Low power consumption (max. 9.5 W)
Up to 20 m USB high temperature cable, up to 100 m ethernet cable expandability (PoE)
NEW Processor: Intel® Atom™ Z530 @ 1.6 GHz, 4 GB SSD, 1 GB RAM
[/learn_more]
[learn_more caption="General Specifications" state="close"]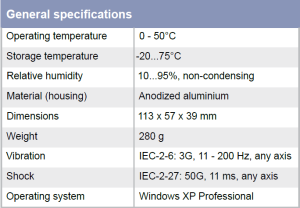 [/learn_more]
[learn_more caption="Electrical Specifications" state="close"]
[/learn_more]
[learn_more caption="Dimensions" state="close"]
[/learn_more]
[learn_more caption="Ethernet direct communication" state="close"]
[/learn_more]
[learn_more caption="Ethernet communication / networking" state="close"]

[/learn_more]
[learn_more caption="Stand-alone operation" state="close"]
[/learn_more]
[learn_more caption="Protective housing dimensions" state="close"]
[/learn_more]