How to calibrate Pt100 temperature sensor
Understanding how to calibrate a Pt100 sensor is very important. Pt100 temperature sensors and other types of RTD temperature probes conform to internationally approved standards but it is important to recognise that the standards only govern the specification of the sensing element used. The building of a temperature sensor assembly adds in many other components which have the potential to affect the overall sensor accuracy.
As a manufacturer of high-quality temperature sensors, we use various assembly techniques and carefully selected components in order to maintain accuracy levels in the finished assembly. Some of the factors that can affect accuracy are as follows: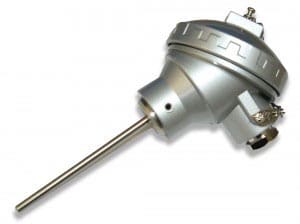 Wiring system selected – to maintain the highest accuracy a 4-wire system should be used. As a minimum, a 3-wire system should be used. Both compensate for lead resistance whereas a 2-wire measuring system cannot.
Depth of immersion – it is important to ensure that a probe is immersed sufficiently in the fluid you wish to measure. As a guide, you should aim to immerse the probe by 10 times the stem diameter PLUS the sensing length of the sensing element. As a bare minimum, you should immerse by 5 times the diameter plus sensing length, but you may expect some slight inaccuracies.
Poor quality junctions and joins in the measuring circuit – any join within the sensor wiring system will tend to increase the resistance of that connection. It is clearly important therefore to use joining and connection methods which keep these resistances to a minimum. This is equally important when choosing and fitting connectors to the measurement circuit. Poor-quality solder joins or loose screw terminals at these points can introduce errors.
Therefore, it can be seen that it is not easy to determine the finished accuracy of a Pt100 temperature sensor due to the inclusion of various other components necessary to finish the assembly. In many applications, it is therefore prudent to consider a calibration for the sensor to ensure that the finished accuracy meets the requirements of the application.
At Process Parameters, we offer professional PT100 calibration services using our laboratory measurement equipment. Our team of trained experts are able to ensure that your temperature-measuring devices are performing correctly and conform to all manufacturer standards. Contact us now for a  calibration services quotation.