[tabs slidertype="simple"]
[tab]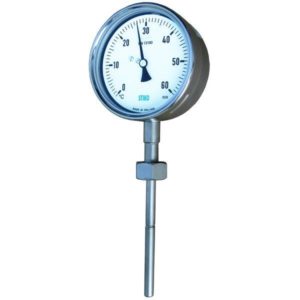 [/tab]
[/tabs]
TXR Rigid Stem Temperature Gauge
Process Parameters offers a complete range of made to order, high quality, rigid stem mechanical dial thermometers available with a wide choice of options to meet the requirements of most industrial applications including those with high demands such as the oil and gas, food and pharmaceutical markets. These gas filled temperature gauges come with bottom or back connections for direct mounting covering temperature ranges from -200°C and +800°C.
[learn_more caption="Features" state="open"]
Nitrogen actuated measurement system – more reliable than bi-metallic.
Wide range of stem diameters and lengths.
Bottom or back entry stem or "every angle" connection.
Round Case diameters (63, 80, 90, 100, 115, 150, 160, 200 and 250 mm).
Also available in case diameters: 2½", 3½", 4″, 4½", 6″ and 8″. 
Square or rectangular cases in various sizes.
Variety of electrical contacts/micro switches.
Choice of stem connections.
Independent electronic measurement built in with 4-20mA or 0-10V output.
Stainless steel construction.
Rugged design.
Diesel engine exhaust gas thermometers suitable for direct & remote monitoring.
Temperature ranges from -200°C and +800°C.
Dials in many units to suit customers specifications.
Sub-sea gauges for 1000m. Extremely rugged design for harsh environments.
Wide range of hygienic connections available including DIN, ANSI, SMS, Varivent, APV, IDF, ISO, RJT, Tri-Clamp and other standards.
[/learn_more]