[tabs slidertype="simple"] [tab]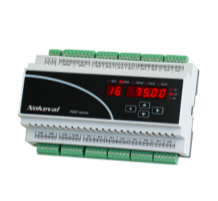 [/tab] [/tabs]
Nokeval RMD680/RMD681 16/8 channel universal input transmitter with analog and RS-485 serial output
What are the differences between the RMD680/RMD681 16/8 Channels?
RMD680 – 16 Channel
The RMD680 Multichannel transmitter has been designed for applications where lots of inputs have to be measured and transferred economically either to PC or PLC. The transmitter has 16 input channels, which can be programmed individually for different sensors. Measurement rate is 12 channels per second. Measurements can be read either by serial interface RS-485 using Modbus RTU or Nokeval SCL protocol or with one analog output.
RMD681 – 8 Channel
The RMD681 is an 8 channel measurement unit for temperature sensors and process inputs. The unit has both one analog and serial outputs. The analog output can be selected among the input channels using digital inputs. Every channel has two alarm levels controlling two common alarm relays. The inputs are galvanically isolated from the outputs and the supply voltage, but not from each other. Configuration can be done also with serial RS485 bus.
[learn_more caption="Input Details" state="open"]
Inputs: V, mA, mV, thermocouples, Pt100, Pt1000,KTY83, Ohm
Input Channels: 8 (RMD681) and 16 (RMD680)
Measuring Rate: 12…25 channels
[/learn_more]
[learn_more caption="Output Details" state="open"]
Special Functions: Binary input selects measurement channel to output
Output Channels: 1
Outputs: mA, V
Alarm Relays: 2
[/learn_more]
[learn_more caption="Connection Details" state="open"]
Connection Model: 1.5mm², detachable
Bus Interface: RS-485
Bus Protocol: Nokeval SCL, Modbus RTU
Baud Rates: 1200, 2400, 4800, 9600, 19200, 38400, 57600
[/learn_more]
[learn_more caption="Display Details" state="open"]
Display Colour: Red
Number of Digits: 5 + 2
Display: 7 segment LED
Digit Size: 7 mm
Indicator Lights: configuration state, alarms, serial communication and fault
[/learn_more]
[learn_more caption="Power Supply" state="open"]
Current Consumption: <100mA
Supply Voltage: 24VDC- 20…28VDC
[/learn_more]
[learn_more caption="General Information" state="open"]
Weight: 320 g
Installation: 35mm DIN rail
Dimensions (WHD): 150x 100x 60mm
Minimum Ambient Temperature: -10°C
Maximum Ambient Temperature: 60°C
Case Material: Plastic
[/learn_more]
Please ask for more information.