Measuring the temperature of high temperature and molten metals is one of the most demanding applications for and sensor technology. The Optris range of infrared non-contact temperature sensors has however been designed to overcome the pitfalls often encountered.
Short wavelength sensors ensure that low emissivity materials are handled more easily, providing more accurate measurements that are less dependent on correct or variable emissivity.
High quality, high resolution optics provide small measuring spots even at larger distances. This allows precise measurement whilst the sensor is protected from the arduous conditions within the process.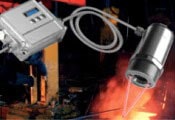 Optris CT laser
1M 2M pyrometer temperature sensor
Unique dual laser aiming system of our high performance series permits very quick setup and displays on the object the exact location and size of the measuring spot. If this is not enough then our Video Pyrometers provide you with through the lens video aiming giving the most precise setup ever.
Finally a broad range of standard and optional process outputs and interfaces allow our IR temperature sensors to be integrated with almost all existing process control equipment.
See our metals product guide
our range of Infrared Temperature Sensors for Metal